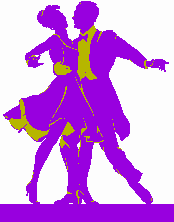 Do you feel like ballroom dancing?

I do. My favorite: Walzer, Discoswing. <!br><!br> <!Do you wanna dance?> <!br> <!Then nice lady> <!a href="mailto:gianluca@bioc.unizh.ch"> <!write me!>

The story behind that:

Everything started one latesummer evening '98, when I ran into a friend.
She had a leaflet with a list of dance classes and didn't stop until she persuaded me to learn how to dance.